A traditional war cry of Maori people became a modern wedding cry of the year. The Maori wedding bride took the steps to perform the surprise haka moves and the passionate cry, that has been watched millions of times across the internet. Tears dropped down like sleet that eventually became an avalanche of tears across the multimedia world of the new media.
Aaliyah and Benjamin Armstrong

becomes the couple of the decade to have had a test of the internet 2.0 platform that will go down in the history of social networking sites, seen, shared and shines forth sealed with tears.
images Courtesy dailymail.co.uk
Aaliyah's entry to the stage is the pinnacle of the viral video from New Zealand that unsealed tears, brought joy and the beauty behind every love bird of one united wedding matrimony.One of the bridesmaid is the one who pulled the strings for the bride to join in, and the moves becomes a wedding history. 'Yes they did'
'Wedding Haka'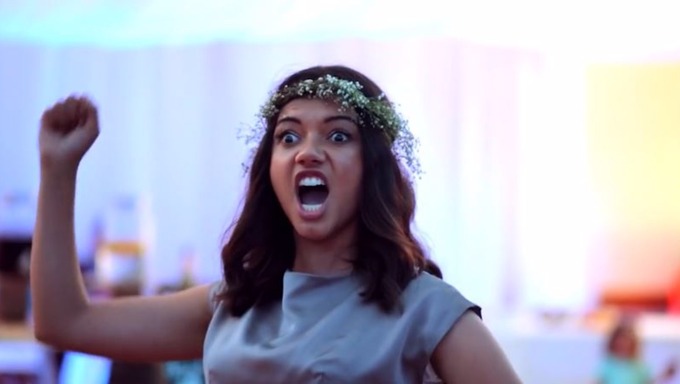 Courtesy http://news.images.itv.com
Above the bridesmaid joined in the haka, mesmerizing eventually rising to the occasion which brought the wedding celebration to its feet and culminating to the climax of the men 'intimidating' haka moves ,moves millions to tears turned a respect and love Maori song. Tying the knot with a touch of grandeur wedding day, that will shape the grandeur wedding day which will last timeless.
https://i.vimeocdn.com
The memory of this wedding has brought another cultural milestone to the Maori traditional culture. A wedding march that became a wedding song, and best men that shower love and respect forever cherished by the love birds that flew into 'Love Haka'
Boitt Images
Long live Maori culture!
Long live lovebirds Benjamin Armstrong and Aaliyah Armstrong! Blissful wedding day!- Joshua Boitt